Photoby: La cantante chilena Lorena Isabell tras entrevista en su casa en San Diego, California.(Alexandra Mendoza/U-T en Español)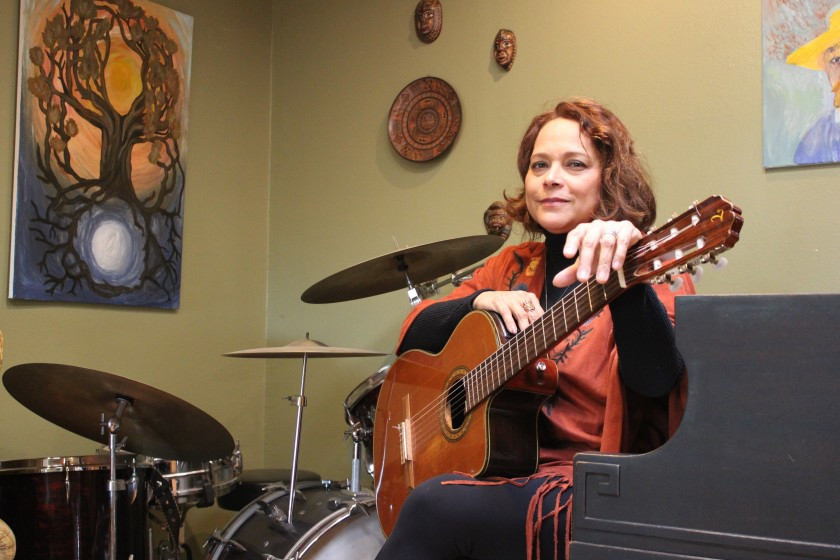 Lorena Isabell was born in Santiago, Chile on September 18, 1970 and was baptized under the name of Lorena Isabel Guzmán Vargas. From a very young age Lorena showed a great interest in music, causing her to teach herself guitar that years later she was able to translate to other Latino American string instruments such as the Cuatro and tiple.
As a teenager, during high school and college she actively participated in numerous singing competitions and concerts performing at folk clubs, schools and neighborhood events.
In 1990 she had the opportunity to be part of the academy of the Chilean Folkloric Ballet BAFOCHI introducing her to the purely folkloric world of Chilean music.
During this period she was immersed in a cultural environment of social music called new song and new Chilean song that had been brewing since the 1960s. This music gained momentum and increased popularity in the country as well as abroad during the military government from 1973-1988. Her background in folkloric music fused with classical music and Jazz came about based on the varied musical friendships formed during that period.Early during her internship (1994) at the Productora providencia (Chile) y DG Medios y Espectáculos (Chile), Lorena worked in the press department where she had the opportunity to work with groups and musicians of national and international renown such as Raúl Di Blasio, Los Pericos, Illapu, Los Fabulosos Cadillacs, Aerosmith , Rolling Stone, Megadeth, Cindy Lauper, Café Tacuba and Pet Shop Boys among many others.
In late 1994, Lorena traveled to San Diego, CA USA with her first husband and father of her two daughters. Lorena is very well recognized in the environment of the Latin Bohemian music in San Diego earning the love and admiration of musicians in collaborative projects as well as a loyal following of fans that have been attracted to her emotional and heart felt performances for the last 25 years. Lorena's most successful collaborations has been with the debut of the song "Hoy" 18 years ago in a co-production in Hollywood Mexico of the American movie "The Price of Glory".This same song has been newly arranged and produced again in Lorena's current album release titled HOY.Lorena has resided in San Diego, CA for the past 24 years living with her husband and three children.